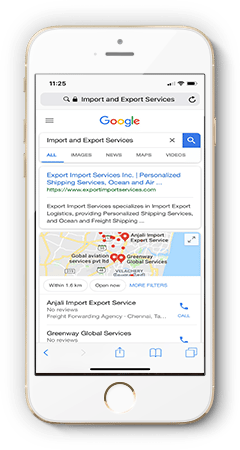 WE ARE ONE AMONG THE TOP SEO SERVICE PROVIDER IN CHENNAI
Rank your website to the top with the Best SEO Agency in Chennai
7 Stones Digital is a data-driven internet marketing and SEO service provider in Chennai that focuses to provide innovative digital marketing solutions across the globe. As a market leader, our firm prides ourselves for providing increased ROI, traffic and brand reputation in a very cost-effective way. With 93% client retention rate, we are one of the largest performing SEO marketing agency in Chennai, since 2013.
Get in touch with our team today to experience what makes 7 Stones Digital stands apart from other SEO marketing companies
start today
OVERVIEW ON SEARCH ENGINE OPTIMIZATION
Be one touch behind your customer's reach
Content is the heart of digital marketing. It can be either a boon or bane to your digital empire. Grow your business with compelling content with 7 Stones Digital to attract your potential customers. The first interaction a customer has with your product is through your content description. It can either satisfy or make him instantly click your product, this happens only with the help of good content. Here comes the major part, all your content on the internet does not get an online presence. Certain keywords are used to attract audiences and web servers to make your business reach upwards. This is SEO.
Stages and Process of SEO
Technical SEO
On & Off page SEO.
Keyword Research
Content Strategy
Image Optimization
Building Backlinks
How to find a reputable SEO company?
The difference between a boom in traffic and a decrease in ranking depends entirely on the choice of SEO Company you choose for your business. Whenever you lock terms with an SEO agency look for these
Read More
HOW SEO WORKS?
When people are looking for solutions to their problems. Ting, the first thing that strikes their mind will be "Let's Google it ". Everyone reaches out the web to find answers for their questions. What will you do then? You will click one of the first few websites. If you are not satisfied, you will come back and proceed with the next website. This happens until you are satisfied with the results. If your website is not SEO optimized, then you will be nowhere within your potential customer's vicinity. You will have no chance to prove you are better than your competitor. Get your SEO optimized content reach your customer's search within seconds
SEO is an acronym that stands for Search Engine Optimization, it is the process of getting unpaid organic traffic from search engine result pages. SEO involves making changes with the content and website design to make your website more attractive to search engines.
WHY CONVINCING A SEARCH ENGINE IS IMPORTANT?
Search engines have automated bot spiders. These spiders collect information on page speeds, Meta tags, backlinks, social links and so on. Search engines will scan or crawl various websites to understand what the site is about. This helps them deliver more relevant results to the users who are searching for certain keywords. Likewise, search engines scan the website to determine whether it is easy to access. The websites that satisfy these criteria are rewarded with higher rankings. There are both on-page and off-page factors that are responsible for bringing your website to the top of SERPs.
On-page SEO includes content and website infrastructure. Helps to
Target the best keyword pack
Match existing content to the targeted keyword
Create new content relevant to the targeted keyword
Make appealing web designs
Off-page SEO refers to actions that are taken outside the website to increase your ranking. Redirection from platforms such as Social Networking, Blog Marketing, Email Marketing, Link Baiting, Search engine submission, Social bookmarking, Photo sharing, Business reviews, Video Marketing and Article Submission can externally add more traffic to your website.
If you are looking for a company that specializes in SEO, then 7 Stones Digital can help. We have designed more than 500 websites that are in trend with the search engines upgrades to sustain the competition and have successfully increased customer retention rate to become a prominent SEO service provider in Chennai.
Click the button to bring your website to the first page today
We strive to provide Our Customers with Top Notch Support to make their Theme Experience Wonderful
Call Now
What is On-Page SEO?
On-page SEO refers to all the measures that can be implemented directly within the website to improve its position in the search results and rankings
CONTENT
Google always makes sure that sites producing good – quality content are rewarded with higher rankings and online visibility. Good content can easily help a business to make more leads and achieve higher ROI.
TITLE
A relevant, attractive and creative title within the keyword aspect can help the search engine know whatinformation your website has provided. A title is a root for your product, which provides the base idea of your business.
META DESCRIPTION
Relevant keywords & anchor text can be provided on the content's description so that they appear on the SERPs. Adding best SEO services in Chennai to a Digital Marketing company is an example to improve optimization in meta descriptions.
HEADER TAGS
Header tags are HTML elements that are used to differentiate headings and sub-headings in the content from other texts. They vary from H1 to H6. H1 can be used only once and others can be invariably used
CONTENT AUDIT
Content audit help's to check whether the existing content achieves its goals and produces good ROI. 7 Stones Digital, SEO company in Chennai, helps to adapt to the ever-changing search engines algorithm.
KEYWORD DENSITY
Overuse or repetitive keywords can lead to website ban or penalty which can backfire your overall effort. Always maintain a keyword recurrence after 100 words to be on the safer side
What is Off-page SEO?
Off-page SEO can increase online exposure, incoming traffic and website ranks. When a business starts to create a boost in social media, it can get more shares and visibility to target potential visitors to grow a digital empire. We at 7 Stones Digital provide best SEO services in Chennai to help brands gain more visibility and reach
Social Networking
Blog Marketing
Email Marketing
Link Baiting
Search Engine Submission
Social Bookmarking
Quality guest post services
Photo sharing
Business reviews
Video Marketing
Article Submission
"5 Signs Your SEO is Outdated"
Keyword Stuffing : Keyword stuffing refers to the practice of loading a webpage with repetitive keywords in an attempt to manipulate the website's ranking in SERPs.
Read More