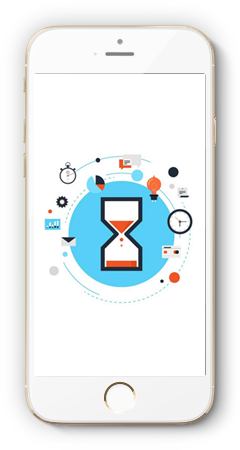 Page Loading Speed
Confused and thinking hard why your website is performing poor even after spending a lot of dollars on optimizing your website! People take things easy. There are many self-named SEO companies that offer services and don't even perform basic SEO activities. They would focus more on Keyword Research, Content Optimization, and Link Building and forget completely about the 'website loading speed test' and its optimization.
Imagine you have an awesome content on your website, On-page and Off-page optimized articles, the quality services or products, but ignored a simple yet important activity of On-page SEO, the page loading speed optimization. Do you know what you are losing then – a huge traffic and your valuable customers! You might think that a one-second delay costs nothing but users want the information for their query in no time. If your website loading speed is low, they won't wait for a second as there are millions of related websites over the internet. So, the page load speed could have a great impact on the sales directly.
Then, how do you know the page loading speed of your website is okay or poor? How to increase the loading speed? Don't worry, 7 Stones Digital is here for you. We provide the best services for page loading speed optimization by analyzing the load speed using different tools and making necessary changes to your website in order to increase your website traffic thus sales.
start today
What is a Good Loading Speed?
Before working on Website loading speed, it is essential to know what is the good loading speed for your website. According to Google, the ideal load speed of the website is 3 seconds, if it is more than that, we have to start working on Page Load Speed Optimization. Unfortunately, it had become hard for the websites to achieve the ideal page speed and it is even tough for a mobile landing page.
So, to increase page load speed, you have to perform speed tests and get to know every detail of the website which is reason for the slow performance. But very fewer SEO companies will take up this kind of projects and 7 Stones Digital is one among them.
How to Perform Page Load Speed Test?
There are many tools available online that analyze the page speed of your website and some websites will also suggest the necessary changes. GT Matrix and Pingdom are best among them. These websites perform the test and provide free page loading speed report but you have to run the test
Though these websites provide the information about the issues that are making the loading speed low, it is hard for you to analyze the page loading speed report and make changes, as it requires to have the knowledge on coding and other technical concepts. Also, minimal issues will be neglected by the tools and so it requires manual checking. Here comes the leading SEO Company in Chennai, 7 Stones Digital to help you with the whole work.
We, at 7 Stones Digital provide the full-fledged services of SEO and page loading speed optimization is one among them. From performing the website loading speed test on different tools to analyzing the report to fixing the issues, our expert SEO team will take care of everything in detail.
page loading speed PRICING CHART
Features

To increase your visibility online

Total project hours to be spent improving site speed, communication, and reporting:
10 hours
20 hours
50 hours
Page speed improvements are likely to increase your page speed tool scores, but 7 Stones Digital. Cannot guarantee the level of increase

-

-

-

Needed for all projects: Website/Server Access

-

-

-

Dedicated project POC

✓

✓

✓

Project web developers

✓

✓

✓

Audit of current server configuration

✓

✓

✓

If needed - Website/CSS optimization

✓

✓

✓

If needed - Setup and/or configuration of a CDN

✓

✓

✓

If needed - Reduction in http(s) requests

✓

✓

✓

If needed - Combine CSS and JavaScript files

✓

✓

✓

If needed - Https setup

✓

✓

✓

If needed - Hosting transfers

✓

✓

✓

If needed - Image size optimization and compression

✓

✓

✓

If needed - Gzip compression

✓

✓

✓

If needed - Caching setup and/or configuration

✓

✓

✓

If needed - Setup of browser caching

✓

✓

✓

If needed - Minify JavaScript

✓

✓

✓

If needed - Changing the order of JavaScript and CSS loading

✓

✓

✓

If needed - Optimize/reduce number of redirects

✓

✓

✓

Minimum One-time investment (The amount mentioned here might vary depending upon your requirements)
30,000 INR
50,000 INR
90,000 INR
Need more information? Call Us: +91 93 6337 7776
Get a quote
Get a quote
Get a Quote
What Makes 7 Stones Digital Different?
You may ask why you should choose 7 Stones Digital for Page Loading Speed Optimization when there are many SEO companies all over the world. We do agree there are many companies that provide SEO services in India and all over the world but most of them provide only On-Page and Off-page SEO and not Page Load Speed Optimization.
Though the page speed looks fine while the company performing SEO activities on your website, it might vary when you update the content. So, performing the Page load speed test and optimizing should be done frequently. But many companies don't provide the Page Load Speed Optimization separately, whereas 7 Stones Digital do it for you. But before choosing us, let us explain how we can help in increasing the page speed by our page loading speed optimization services.
Fill the form to get your Website Speed
Maintained

or

optimized

We strive to provide Our Customers with Top Notch Support to make their Theme Experience Wonderful

Get a Quote
Tags:
Page loading SPeed Optimization
Website Speed Test
Website loading Speed Test
Speed test consulation
Get a good loading speed website
Page Loading Test Reports & Pricing