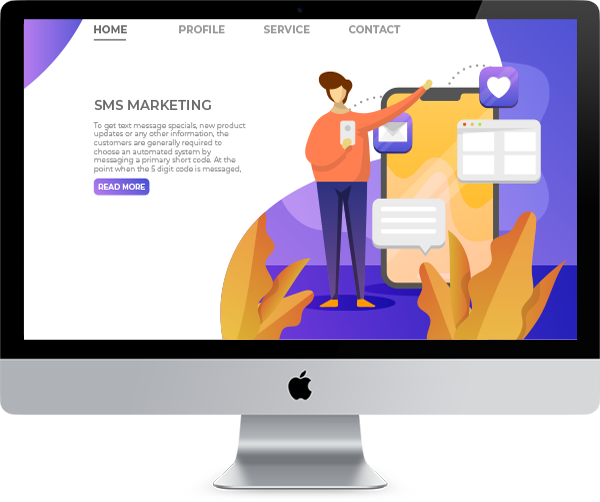 bulk SMS Marketing service
Create more traffic and more sales
To get text message specials, new product updates or any other information, the customers are generally required to choose an automated system by messaging a primary short code. At the point when the 5 digit code is messaged, the phone number of the user is then put away by whatever SMS marketing software is issuing the texts. A confirmation message is generally sent as the receipt for selecting in, with an opt-out code added for potential future unsubscribing. But there are many Digital Marketing companies' uses SMS as the main marketing strategy, their clients are possibly passing up a great opportunity for interactions with customers and expanded ROI. Wondering what SMS Marketing is, don't worry.
start today
Major Objective of SMS Marketing is.........
To create a database of subscribers to enhance customer trustworthiness, while executing close proximity marketing strategies, text messages are a perfect method for telling individuals within your region of any quick offers, without using push-notification applications. More than notifying your customers about the upcoming deals, it can likewise be an awesome method to send updates regarding upcoming events and draw in your customers by taking a survey to know their opinions.
SMS Marketing offers great advantages such as.....
By making use of such analytics, businesses can make additionally targeted campaign and ceaselessly develop a good understanding of their mobile database. It does not just imply that they save money as well as boost ROI but by profiling and in addition parting out numbers that are most drastically averse to respond, SMS enables a company to focus on those customers by means of email or another channel.
Are you looking for the agency providing the service of SMS Marketing India? If your answer is yes, then you possibly will find the agency in different locations of India like Chennai and many more which can offer you bulk SMS Marketing services in highly cost-effective and compelling way to focus on your potential customers on mobile wherever they are. From campaign set up to message planning, and from sending to reporting, their user-friendly dashboard does everything with few clicks.
Fill the form to get your SMS
Marketing

or

Managed

We strive to provide Our Customers with Top Notch Support to make their Theme Experience Wonderful

Get a quote
Tags:
SMS Marketing
SMS Marketing Ideas
SMS Marketing chennai and bangalore