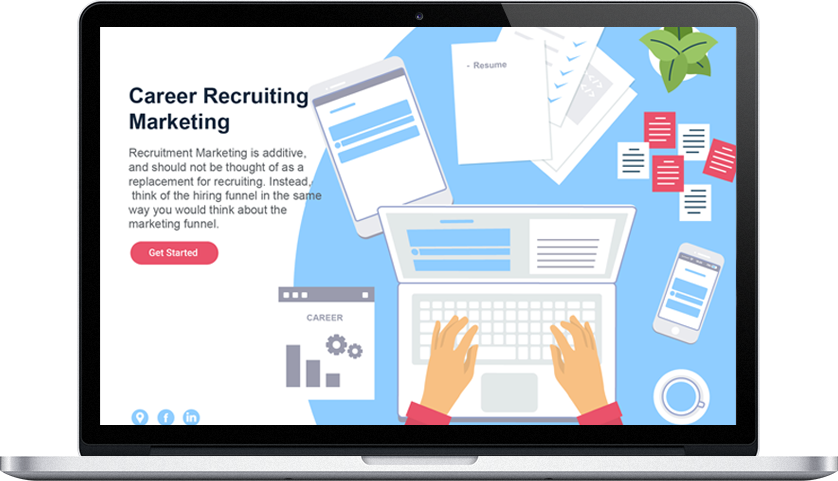 Career Recruiting Marketing
Before the days of Facebook and LinkedIn, candidates could remain anonymous until they applied for a job. But the world has changed. We're all hyper-connected and that has prompted an industry-wide shift in the way companies attract top-tier talent.
Recruitment Marketing is additive, and should not be thought of as a replacement for recruiting. Instead, think of the hiring funnel in the same way you would think about the marketing funnel.
start today
Capture the Attention of Top Talent with Career & Recruitment Marketing
Improve the domain authority of your website
Maximize the lead generation rate by employing SEO strategies
Be aware of the current healthiness of your website
Get a grasp on the factors that are influencing the organic ranking of your website
Improve the conversion rates of your leads
Increase user engagement and create a followers base.
Let's have a look at the Blueprint for Success!
So, let's get down to the nitty gritty!
No matter what the organization's size or budget is, to attract great candidates, associations need to apply great marketing skills to the recruitment process. Some of the marketing strategies are to be followed to ensure that you catch the attention of the most qualified candidates.
Call us today to get Career Marketing done.
We strive to provide Our Customers with Top Notch Support to make their Theme Experience Wonderful
Call Now
career marketing pricing chart
View our pricing below to see the features of our local SEO strategy.
Features

To increase your visibility online

BASIC PLAN

Monthly Recruiting Ad Spend
Up To ₹ 30,000
₹ 30,000 - ₹ 85,000
₹ 85,000 - ₹ 1,50,000
₹ 1,50,000+
Custom Employment Landing Page Design

-

✓
✓
✓
Custom Graphics For Employment Page
✓
✓
✓
✓
Number of Job Listings Written
5
10
15+
Custom
Employment Page Optimized For Search
✓
✓
✓
✓
Initial Keyword Research
✓
✓
✓
✓
Google Analytics Setup
✓
✓
✓
✓
Google Analytics Conversion Tracking
✓
✓
✓
✓
Google Analytics Custom Dashboards
✓
✓
✓
✓
Google PPC Management
✓
✓
✓
✓
Facebook PPC Management (Sponsored, Targeted Updates)
✓
✓
✓
✓
Facebook.com/Jobs Management

-

✓
✓
✓
LinkedIn Jobs Sponsored Updates

-

✓
✓
✓
LinkedIn Job Listing Management

-

✓
✓
✓
Indeed PPC Management

-

✓
✓
✓
Conversion Rate Optimization on Employment Page

-

✓
✓
✓
Ad campaign copywriting
✓
✓
✓
✓
Ad copy performance testing
✓
✓
✓
✓
Ongoing keyword development and tweaking
✓
✓
✓
✓
Results analysis/reporting
✓
✓
✓
✓
Dedicated account representative
✓
✓
✓
✓
Free ₹ 1,000 AdWords credit to new clients
✓
✓
✓
✓
15% discount on Indeed advertising spend

-

✓
✓
✓
One time setup (1st month):
₹ 20,000
₹ 35,000
₹ 45,000
Custom
Progressive monthly management:
₹ 10,000
₹ 15,000
₹ 25,000
20% of ad spend
Need more information? Call Us: (+91) 93 6337 7776
Get a quote
Get a quote
Get a Quote
Get a Quote
how do we find that job? Have the methods or procedures changed as time passed by?
Every one of you reading this will have different answers to all the questions above. Why do you think so? Apart from the way we search for jobs, the fact is we all want different jobs at different stages of our life, have different skills and have different things that influences our career decisions. As in marketing, recruitment advertising or job postings are increasingly being analyzed as a science of conversion. As consumers decide to click an ad or make a purchase online, so do potential employees decide to apply to job listings. Employment marketing is another one of the newest buzzwords that involves building a strong brand as a company and employer. The goal is to articulate what makes the company different or special. The employer brand image impacts recruiting, retention, engagement, and overall perception of your company.
It should answer a very simple but important human resource related question: "Why should I work here?"
To be fair and frank, many company owners and HR professionals know the answer to this question but don't have the marketing skills or time to communicate it - at least externally. While working with clients for digital marketing, we see many examples of well-run companies with terrific cultures. Unfortunately, you would never learn this by visiting their websites or social channels. The web presence is typically, sales-centric rather than being well balanced with employment marketing. In most companies, employment marketing is done poorly, if at all. Thinking about recruiting as purely a marketing function is certainly incorrect – it's only one side of the coin – the "pull" versus the "push" of recruitment. However, taking some best practices from marketing and sales and applying them to job posting, recruitment advertising, and employment branding is a good exercise for any corporation looking to improve their candidate attraction strategy.
Talk To Us!
We aren't a faceless, pressure cooker marketing house determined to make a fee at all costs by wasting your time with CV's that just don't match, candidates that leave after 3 months or ones that just don't perform. When contacting with 7 Stones Digital you get great results, and you have the peace of mind that your company is getting the top service at a price that's very competitive. Whether it's a major recruitment campaign or a one off marketing assignment, SSD will deliver and only charge on results. Our ability to match the right marketer to your requirements is the reason why you should choose 7 Stones Digital!
Call us today to get Career Marketing done.
We strive to provide Our Customers with Top Notch Support to make their Theme Experience Wonderful
Call Now
Tags:
What is Career Marketing
Placement Services in chennai
Jobs in bangalore
Career & recruiting marketing services india
Placement Assistance For freshers