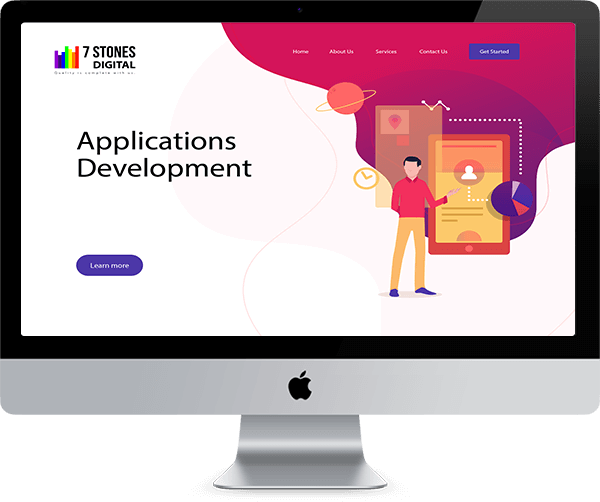 Mobile App Marketing
We have entered into an era where 'Convenience is the new king'. Yes, this is true. Everyone, especially customers in this dynamic generation would hunt for convenience and the market player which satisfies this need would clearly take leverage of the situation. Now this point could be associated with your business organization also. If your company needs to provide convenience to the customer and at the same time provide a wide presence to your business organization you would need a Mobile Application Marketing for your business organization.
start today
Types Of Mobile App Development
There are many types of mobile application marketing strategies developed according to the type of mobile applications required by the target audience. But before getting into mobile application marketing strategies it is important to know the types of mobile application which go as follows:
Mobile App Marketing pricing chart
View our pricing below to see the features of our Mobile App Marketing strategy.
Features

To increase your visibility online

BASIC PLAN

Ultimate

Enterprise

Phrases protected & monitored
1
8
8
Search positions protected & monitored
1 to 10
1 to 10
1 to 30
Dedicated account representative
✓
✓
✓
Up to two personal consultations per month
✓
✓
✓
Development of micro-sites
✓
✓
✓
Article submissions
✓
✓
✓
Press releases
✓
✓
✓
Social media bookmarking
✓
✓
✓
Social media profiles
✓
✓
✓
Facebook - setup/enhance & promotion
✓
✓
✓
Twitter - setup/enhance & promotion
✓
✓
✓
Flickr - setup/enhance & promotion
✓
✓
✓
Analysis report

✓
✓
✓
Setup of website sitemap

✓
✓
✓
Image optimization

✓
✓
✓
YouTube - setup/enhance & promotion
✓
✓
✓
Custom 404 error page setup and optimization

✓
✓
✓
LinkedIn - setup/enhance & promotion
✓
✓
✓
Business profile linking
✓
✓
✓
Forum profiles
✓
✓
✓
Forum comments
✓
✓
✓
Creation of Ning social network
✓
✓
✓
Squidoo lens
✓
✓
✓
Hub page creation
✓
✓
✓
Blog comments
✓
✓
✓
Development of micro-blogs
✓
✓
✓
Blog setup
-
✓
✓
Blog network distribution
-
✓
✓
Blog RSS directory submission
-
✓
✓
Blog RSS distribution
-
✓
✓
Google profiles
-
✓
✓
Yahoo answers (Q/A)
-
✓
✓
Video and image xml sitemaps
-
✓
✓
Photo sharing
-
✓
✓
Forum site reviews with aged accounts
-
-
40
Customer reviews
-
-
✓
Video promotion
-
-
✓
Guest blogger posts (Compliant with new SEC guidelines)
-
-
✓
Additional unlisted link building strategies
-
✓
✓
Online tracking system access & notification
✓
✓
✓
Optional PPC management for protected phrases (PPC network spend paid by client)
✓
✓
✓
One time campaign investment (2 month duration):
₹ 2,25,000
₹ 4,50,000
₹ 6,00,000
Progressive monthly reputation management (Min 6 month duration):
₹ 60,000
₹1,20,000
₹ 1,65,000
Need more information? Call Us: (+91) 93 6337 7776
Get A Quote
Get A Quote
Get A Quote
MOBILE APPLICATION MARKETING:
Mobile Application Marketing is one of the best methods to take advantage of the unique opportunities provided by the Mobile. Mobile offers a variety of channels, in-the-moment hyper-personalized interaction and experiences.
If you are looking for the best mobile application marketing strategies in Chennai and Bangalore, then 7 Stones Digital is the place for you. We offer some of the best digital marketing services in India. While designing mobile application marketing strategies we at 7 stones digital consider the following steps which make us the best in the market.
5 steps of mobile application marketing
The first step of mobile application marketing service is to focus on the mobile application has to be the end-users of your app. Before designing a marketing strategy, it is important to study and analyze the mobile behaviour of the people you are going to deal with.
It is always important for you to do an in-depth study of customer behaviour pattern. The primary thing to do while designing a mobile application marketing strategy is to focus on the target audience and devise ways to engage them. Do a keen study of the customer requirements and recognize their unique behavioural patterns. The best way to analyze customer behaviour would be to study the traffic on your mobile website. The type of visitors can be used as the basis for the kind of devices they use as well as their needs and requirements.
The next step is to remember is the main objective of the application design. The main objective should be to provide maximum advantage to the app users. The customer satisfaction is the key to success of a business. The best method, to do that is, to begin with, an active interaction with your target audience, provide them with irresistible offers and deals, give them location-based information, social media sharing feature and many more. App marketing is highly important marketing technique as it helps you connect directly to your end-users. Don't let it go waste, try to provide your users with the richest possible user experience from your app.
The next step is refining your marketing strategy. The refinement of marketing strategy involves a proper planning, group of individuals to manage the app, working on the publicity and advertising of the app, information processing and gathering and most importantly choosing the right kind of mobile platform for the effective marketing your app. This step of marketing strategy also involves deciding upon the time period of your promotional efforts (long-term promotion or short-term promotion). In case your application fits well into a commercial venture, then you have to work on the pricing aspect of your app.
The final step is to decide upon the right type of mobile technology for marketing your app. Short Message Service (SMS) is one of the best ways to reach the maximum audience in the cheapest way possible. This is the most direct method with great adaptability. Another technique could be designing a mobile website due to a large number of smartphone and other mobile device users always connected via internet. For this process, one can opt for the latest HTML5 version which will provide ease of user navigation around your mobile Website ensuring smooth functioning throughout. The mobile application marketing is a vital marketing strategy as mobile applications can be easily downloaded and used. All you require is a proper amount of time and money in order to design a perfect mobile app for the success of your business.
Note
If you really want to succeed in your business by busing mobile application marketing technique, then it is important to design an application which is user- friendly in nature. In order to maintain a large number of users as well as enhance your app usability, it is important to update and upgrade your application. This can be done by providing early releases in the form of application upgrades as well as regular releases in the form of application updates.
We cater to the needs of your business and develop stunning Mobile Applications for your company. We have experts under one roof in our team. Our team of highly qualified developers make it sure that the Apps as well the mobile application marketing strategies developed by us provide a unique identity to your firm and be successful in providing a dignified experience to the users of the App.
The Apps conform to the standards of the web industry and are Performance-Centric and are Aesthetically Appealing. So if you are looking for mobile application marketing agencies in Bangalore and Chennai then 7 stones digital is the place for you, since we are the best Creative digital marketing agency.
Call us today to get Best Mobile App Marketing done.
We strive to provide Our Customers with Top Notch Support to make their Theme Experience Wonderful
Call Now
Tags:
What is Mobile App Marketing
Best Mobile App Marketing Company
Mobile App Marketing Packages
Mobile App Marketing Services In Bangalore