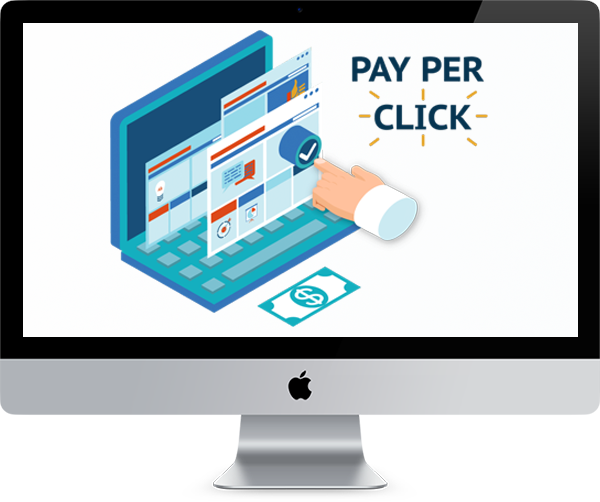 PPC Management
Create more traffic and more sales
PPC advertising provides you with an opportunity to increase the traffic to your landing pages, improves lead generation and sales. PPC advertisements position you in the top of the search engines in eyes of the people who are searching for your products and services.
start today
What is PPC?
Pay-per-click (PPC) ads are widely seen as the popular form of advertising. In PPC advertisements, you will set a budget and place an ad. When someone clicks on your ad, it takes them to your landing page where you can have call-to-action, any messages or any other means of conversion. You will only pay when someone clicks on your ad.
Effective Ads
Though the concept is simple, to create effective clickable ads with brings in more conversion, there is a lot of research that goes into the background. Due to the high competitions in the market, it has become difficult to rank for the appropriate keywords for your businesses. This makes it difficult to even get your services in front of the potential customers. This is where a PPC Management service comes in.
Our PPC Management Services
Our expert team at 7 Stones Digital is highly qualified to handle your PPC advertisements effectively. We strategize our PPC campaigns towards achieving your business goals. You need not know what the terms views, impressions, CTR or any other metrics are. We analyze the metrics and let you see the results in your terms: leads, conversions and sales, thereby increasing your ROI. We offer PPC services in Chennai and in other major cities of India. Our PPC costs are competitive in the Indian market, offering the best of services to maximize the reach of your Online Marketing according to the demographics, industry and the audience.
Why do you need 7 Stones Digital PPC Management Services?
To attract more potential sales and increase ROI
To get your products or services in front of the right audience
To strategically spend less through low cost per click (CPC) and increase the click-through rate (CTR)
To reach the specific audience with respect to the demographics, industry or a profile
Open the gates of your business to the global market
Get back your suspended AdWords account or Bing Ads account and get it running
To get specific information in front of the people faster
To increase social media reach and followers, thus converting your PPC leads to regular followers
To efficiently use remarketing for better conversions
To spend wisely and stay within your budget
PPC pricing chart
View our pricing below to see the features of our PPC
Features

To increase your visibility online

Monthly PPC spend with PPC networks
1,50,000 INR
2,50,000 INR
Custom
Keywords in campaign
Up to 400
Up to 2,000
Up to 10,000
Google PPC Network
✓
✓
✓
Bing PPC Networks
-
✓
✓
Google Text Ad Remarketing & Banner Remarketing (if banner ads are included, provided by the client, or creative banner design is paid for)
✓
✓
✓
Google Display Network
✓
✓
✓
YouTube Video Ads (Clients need to provide video or purchase 7 Stones Digital web video production package)
✓
✓
✓
Google In-Store Visit Reporting
✓
✓
✓
Google customer match & audience match
✓
✓
✓
Gmail Competitor Ads
✓
✓
✓
Initial campaign development & strategy
✓
✓
✓
Advanced keyword research and selection
✓
✓
✓
Industry analysis
✓
✓
✓
Ad campaign copywriting
✓
✓
✓
Ongoing keyword development and tweaking
✓
✓
✓
Dynamic keyword insertion into ads
✓
✓
✓
Google analytics integration & goal tracking
✓
✓
✓
Results analysis/reporting
✓
✓
✓
Strategic bid management
✓
✓
✓
PPC account settings monitoring (Ex. Geotargeting)
✓
✓
✓
Single account representative
✓
✓
✓
Up to two personal consultations per month
✓
✓
✓
Up to 100 web lead phone calls tracked per month (Included for all 7 Stones Digital clients)
✓
✓
✓
Up to 25 web lead phone calls transcribed per month (Included for all 7 Stones Digital clients)
✓
✓
✓
Monitoring clicks, conversions and click fraud activity
-
✓
✓
Setup and management of rule based bidding
-
✓
✓
International PPC campaign management (English only campaigns)
-
-
✓
Setup of 1 Unbounce Landing Page template (optional)
-
-
✓
Website conversion analysis reporting
-
-
✓
Initial banner ad design for display & remarketing
Add 63,000 INR
Add 63,000 INR
1 set included
Quarterly banner ad design for display & remarketing (a total of 4 banner ad sets a year)
Add 21,000 INR
Add 21,000 INR
Add 15,750 INR a month (since 1 set is included each year)
Website conversion analysis implementation
Nil
Nil
By Quote
Social Media PPC Advertising
By Quote
By Quote
By Quote
Free 7,000 INR AdWords credit to new clients
✓
✓
✓
One time setup (1st month):
70,000 INR
1,22,500 INR
1,75,000 INR
Progressive monthly management cost:
22,750 INR (& minimum for all plans)
14% of monthly budget
12% of monthly budget
International Campaigns (Non-English) - Each additional language monthly management cost: (Two month duration)"
19,250 INR
19,250 INR
19,250 INR
Translation Services:
By Quote
By Quote
By Quote
Need more information?Call Us at: +91 93 6337 7776
Get a quote
Get a Quote
Get a Quote
Pay Per Click Planning
As one of the leading Search Engine Marketing (SEM) companies in Chennai, we provide the best services for PPC advertisements. With our team of experts, we will deliver better ROI and help you in increasing your customer base. Based out of Chennai, 7 Stones Digital will help you achieve your business goals efficiently in the competitive field of internet marketing.
7 Stones Digital's Approach to PPC Management Services
When you sign up to use our PPC Management Services, you will be assigned a PPC Manager who is the point-of-contact person and will be responsible for running and managing your ads. We streamline the process of your PPC campaigns for better ease of optimization.
Audit your current account
If you already have a current PPC account, we will evaluate the status of your account. This audit will help us understand and use the previous data to create better ad campaigns for your business. It will also shine light on the weak areas and aid us in leveraging the strong points from the data available.
Perform keyword research
Keyword research is a crucial deciding factor in your ad campaigns. The right choice of keywords has to be selected to get the ad in front of your target audience.Our team will extensively analyze the industry your business is in and come up with low cost, low volume keywords (generally long tail keywords) which will generate more clicks, and combine it with high cost, high volume keywords (more competitive keywords) within your budget.
Setting up for the ads
We will bid for the keywords on your behalf, set up your campaign, goal tracking, and target audience group in addition to many other options for the smooth functioning of the campaign.
Ad copywriting
While proper use of keyword gets your ad in front of the target audience, good copywriting enables the audience to click on it to get directed to the landing page. We will write persuasive, effective copy within the character limit to make it interesting and clickable for the audience.We can also guide you in creating effective content for your landing pages to improve your conversion rate.
Design of the ad
When running ad campaigns, our team will come up with multiple designs in various dimensions to place ads according to the relevancy. Once we have put up your ad, our job is not over. We analyze and optimize every ad campaign to make sure that every penny you have spent is worth it. We track the performance of the campaign, analyze the metrics, make suitable changes and strive to achieve your business goals within the budget.
Fill the form to get your PPC
Managed

or

optimized

We strive to provide Our Customers with Top Notch Support to make their Theme Experience Wonderful

call now
Tags:
PPC Cost In Chennai
What Is PPC
PPC Services In Bangalore
PPC Management
Google Adwords
PPC Cost in Bangalore